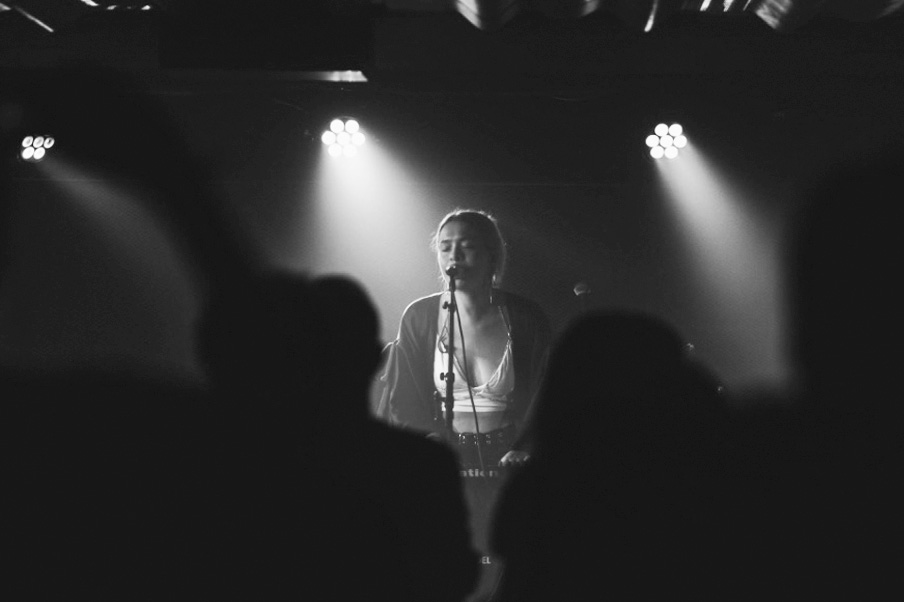 June 26, 2023 12:50 pm
Böbe Szécsi participated in the Waves Vienna showcase festival with the support of HOTS (Hungarian Oncoming Tunes). We asked the singer about her personal experiences, the impact of participating in the event and the significance of stepping on stage and introducing herself at a showcase festival.
How did you prepare for your performance at the Waves Vienna Festival?
We prepared mostly with my band. We consciously thought about how to put together a setlist that would be interesting to the audience at Waves Vienna because a showcase festival concert is quite different from a regular festival performance. Showcase events have a conference-like atmosphere with industry professionals and music experts who move from venue to venue to catch glimpses of multiple simultaneous performances. That's why it was important for us to create a setlist with a cohesive flow and intriguing elements that would capture people's attention regardless of which song they stumbled upon during the concert. As usual, I paid great attention to my appearance and outfit for this performance. Additionally, to stay informed, I made an effort to explore which other bands would be present at the festival.
How satisfied are you with your performance?
I am very satisfied. It was one of the best concerts I've had with my solo project so far. We had a sound engineer, Zsolt Harsányi-Kovács, who helped us achieve the best possible sound quality and thanks to him, we sounded exceptionally good.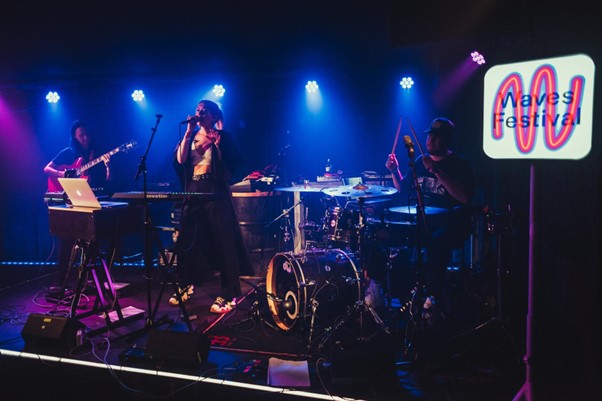 How did the performance enrich you personally and as a performer?
I always enjoy playing abroad and I've had the opportunity to do so with Belau at various showcase festivals. Five years ago I was with them at Waves Vienna as well but returning to the same venue with my own production was a completely different experience. I have always longed to perform beyond borders and have the local audience hear my songs. So, when this happens, it is always a great motivation for me to continue on this path. Once again, it happened this way, and I left Waves Vienna with a positive and fulfilling experience.
How does performing at Waves Vienna contribute to your artistic growth and development as a performer?
It's interesting that despite having been to events like this multiple times with Belau, I still felt nervous before the performance and I was more focused on the concert than ever before. In fact, by the end, I was so exhausted that I could barely comprehend what was happening around me. Showcase festivals have always been very inspiring to me because they expose me to a wide range of productions from all around the world. Prior to starting my solo project, it was particularly beneficial to observe how female performers take the stage and create different styles of music. Just as before, these observations have had a profoundly constructive impact on me, providing new and valuable insights that shape my musical style.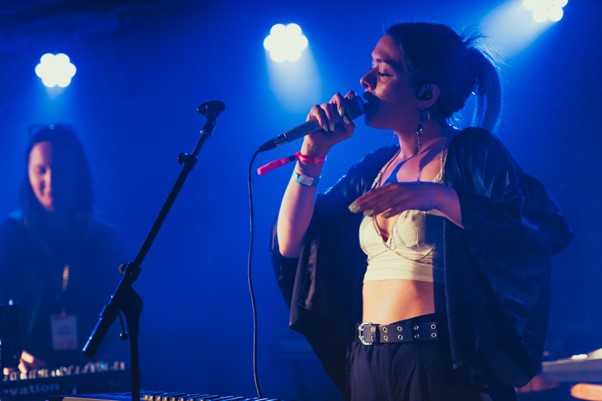 What feedback did you receive regarding your performance?
I consider it a positive feedback in itself that there were many people present at my concert. At showcase festivals, people often come and go from performances regardless of their quality. With so many concerts happening simultaneously, the audience tends to wander around to see as many performers as possible. It felt good to see that those who came to the front of the stage stayed throughout the entire performance. This was a positive indication that they enjoyed the show. Also, I received several messages after the concert from people expressing their enjoyment and hoping that we will return to Vienna for future performances. I didn't encounter any negative feedback which is likely due to the fact that we recently had a concert where all the technical mishaps I had ever feared actually happened. That experience taught the band to pay close attention to certain aspects, and we learned from it.
Why do you think it is worthwhile to attend showcase festivals and what is the significance of HOTS in this regard?
I believe every performer should ask themselves what they want to achieve, which markets they want to target, and how much they want to expand their audience. If they aspire to establish themselves internationally, attending showcase festivals can be a fantastic launch. I think Waves Vienna is particularly great because it is located abroad yet easily accessible and it provides ample opportunities to meet and network with international industry professionals. The role of HOTS is unquestionably significant. It's wonderful to have an office in Hungary that facilitates the participation of Hungarian productions in such festivals. They reach out to the artists, recommend them for festivals and serve as a bridge between the festival and the production. Financial support can also be expected from them, so they assist in every way they can.
What are the current events around you that you would like to share?
The intense festival season recently came to an end, which was both exciting and busy, and now I'm entering a creative period. I would like to have as many concerts as possible during the club season – my solo project will perform before Belau and the audience can also catch us at the Paperdeer event held at Dürer Kert – but primarily, my focus will be on creating. I'm working on a new EP. I've just come through an intensive period and I can draw inspiration from many things.
Author: Daniella Nagy | Photos: Norbert Marossy
Categorised in: News
This post was written by hotsmusic