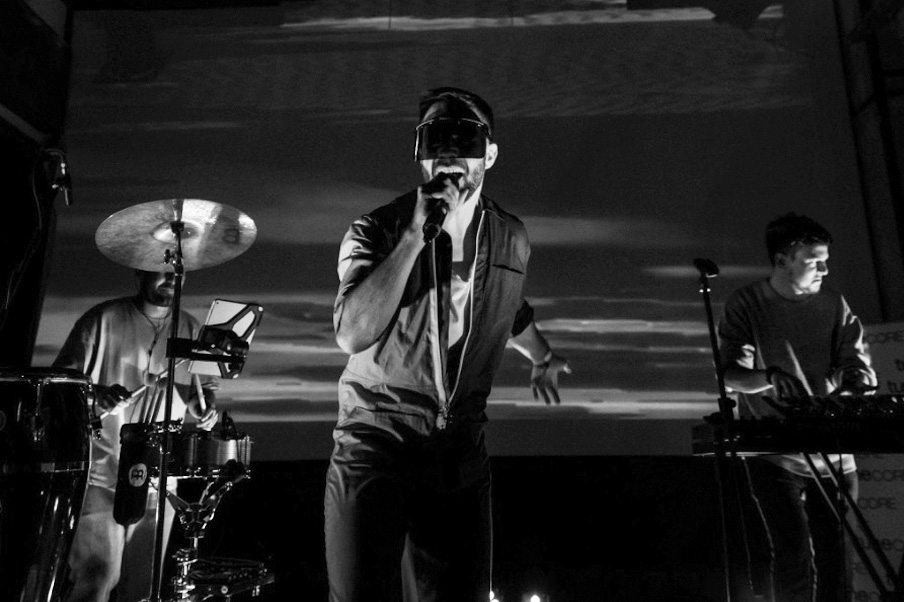 June 26, 2023 12:54 pm
OIEE was one of the performers at the regional reception of CEEntral Party held within the framework of Eurosonic. Besides showcasing internationally, frontman Bence Kocsis talked about how he can create music freely, authentically and independent of trends while still easily connecting with the audience through his songs.
What did you experience during your participation in CEEntral Party?
We were in a period of the project where we had a new album coming out and many new releases, so we felt it would be beneficial to introduce ourselves at Eurosonic in Groningen. We played in a smaller club but it was well-equipped and had a high turnout, the space was nicely filled. We buddied up with the club owner, who really liked our music, and we also got the contacts of some international professionals. So, this featured showcase was a good stepping stone for us.
Were you concerned about how your music would be received or did you have full confidence while being on stage?
I don't usually get overly anxious. Of course, you can never know how receptive a particular venue or audience will be to what I represent. In Groningen, there was no problem because there was a professional audience present which made everything go well during the concert.
Do you see participation in showcases as an opportunity for international recognition, or does it give you confidence knowing that you are working on other avenues to increase your visibility? I'm referring to your connection with The Chemical Brothers' sound engineer.
I think showcases should be approached with the right perspective. Many industry professionals attend these events, the concerts, and they see and experience countless stimuli. I've been performing abroad with various projects for over a decade, OIEE is my sixth band. While initially it was really exciting to perform abroad, that feeling has diminished over time. We plan and create nice and calm. We don't overhype these opportunities because that can lead to disappointment. It's possible to travel to the other side of the world for a showcase and not achieve anything. On the other hand, a completely ordinary encounter can bring great benefits. Many times I've experienced situations, conversations and meetings that propelled the project forward in ways I least expected. It's important to approach these situations realistically. My tactic is not to put too much pressure on the project, I don't have grand expectations of success. I consider every invitation and positive feedback as a bonus and enjoy the fact that I'm fundamentally doing what I care about and what I love. OIEE is not about following trends just for the sake of it. There's a sense of smoothness in it. The essence is that the process of making music should be fun. It should be enjoyable to create the songs and perform them live with an audience. Every source of income or international recognition is a fantastic plus. Of course, it requires managerial awareness to properly allocate resources and determine how much to invest. I handle many production aspects myself and since this year, the team has expanded, so I get help.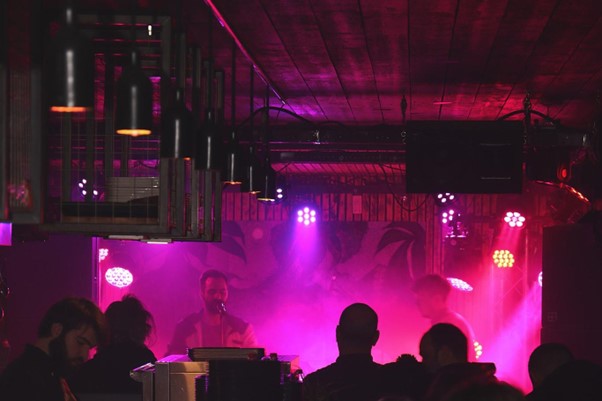 Photo: Eurosonic
What do you take away from your presence at Eurosonic? What constructive feedback have you received?
Several people approached me saying they really liked the music but I don't attach great importance to that. The real business comes when someone actually books us or when further collaborative opportunities arise that take us to the next level. One of the most positive experiences I had was when the owner of the venue where we performed was really impressed with our music. During soundcheck, he came over to film us and sent the recording to his girlfriend, telling her to come to our concert because it would be great. It felt good because this person is relevant and if any fruitful collaboration emerges from this in the future, that would be fantastic.
As a music professional, how do you see the responsibility of music export offices? Why is it important for Hungarian music export offices to delegate musicians to foreign showcases?
Perhaps in the past, the Hungarian music scene was not as export-oriented and globalized but since the emergence of streaming, it has become easier for more specific music styles to reach abroad. There are many Hungarian artists with a significantly high listenership abroad. While Hungarian participation in showcases may not have been a realistic option in the past, it is increasingly worth considering music export. Recently, I was in London and I had a conversation about whether having an accent as a singer in a song is off-putting. It turned out that the English audience doesn't care about it at all. If the music and the character are good, that's enough. British English songs are everywhere, so speaking the language perfectly is not an expectation or something special to them. Instead of worrying about the language, it is more important to make the artist's character clear and unique.
How do you manage to maintain and represent your own uniqueness against trends and how do you reach your listeners?
Music finds its listeners, although I still need to work on this aspect and there is room for improvement. I am currently focusing on this during this period. Following trends doesn't attract me though. There are artists who aim for success and recognition but my goal is not to find that perfect musical essence that captures attention and becomes popular. What motivates me is to enjoy the process of making music and to have the freedom to make changes to my music, for example, two years from now, if I wish to do so.
How do you manage to preserve your creative freedom while creating a product that the audience can connect with?
It's related to the type of music one creates. I generally enjoy pop music, but within that realm – and sometimes I perceive this as a disadvantage – I don't make music that is alternative enough or mainstream pop enough. I'm somewhere in between. Many people can connect to this and the songs also work well as commercial tracks, but they are not in the mainstream and don't fit into extremely abstract cliques either. They exist in between which makes the music more diverse. Sometimes something "darker" comes out of me, while other times it's a laid-back pop song. I operate within a wide spectrum and the songs that are born out of it are inspired by what currently moves me. Perhaps it is this versatility that allows people to connect to it. One of the most positive feedback I've received recently regarding the project is that it is recognizable as OIEE based on its sound. As an artist and songwriter, I believe it's important to have a voice that cannot be compared to others while still maintaining a recognizable character, even though the songs may vary in tempo or sound. Despite this diversity, they still carry certain trademarks. So I think the most important thing is to find a distinctive character within the music. There is room for exploration in music and at the same time, the songs are diverse but still recognizable and distinctive. I found the tools that bring together different ideas in unity while allowing the end result to remain colorful. The next album will be different in this regard compared to the previous one. Instead of a humorous atmosphere, it will have a more mixed range of emotions and it will be somewhat darker.
Does the album reflect the changes happening within you or in the outside world? When can we expect to hear it?
The album will be released at the end of April. It will have this particular direction because these are the ideas and musical themes that I'm currently drawn to. Moreover, instead of guest vocalists, I will be singing on this album which is a significant shift. The entire project started as an experiment of collaborating with others and not being the lead vocalist but now I feel that it would be great to sing again. This way, I can also perform my songs live, not just in a DJ set.
Author: Daniella Nagy | Featured image: Bernadett Fejér
Categorised in: News
This post was written by hotsmusic