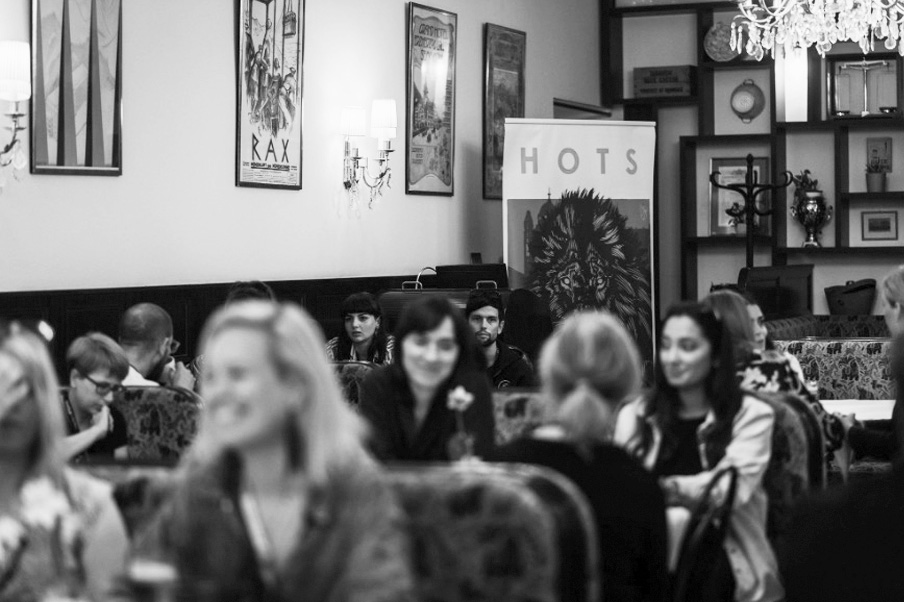 June 26, 2023 12:45 pm
HOTS (Hungarian Oncoming Tunes) prepared aspiring professionals in the music industry for a conference visit with the help of experienced managers. The knowledge gained during the preparatory workshop was put into practice first at the Hungarian reception of the 2022 WAVES Vienna showcase festival and conference.
The background of the workshop's establishment was a previous grant from the National Cultural Fund (NKA) aimed at young professionals which, due to the pandemic, could only be realized with a delay of about two years. The winners of the grant had the opportunity this fall to essentially spend the received support for the first time. Through this process, they reached the head of the HOTS program office Deáki Dorka, as HOTS has had professional cooperation with the WAVES Vienna showcase festival and conference for years. Thanks to this, the knowledge gained during the workshop organized by HOTS could be applied by the participants at the showcase festival. "Essentially, every grant applicant from NKA wanted to attend this showcase festival so the idea arose to connect these two things. That's how this professional training came about for the first time, but probably not for the last time, in a pilot-like manner. During the organization of the workshop, we identified what could be the missing knowledge and skills for beginners. Then we assigned the respective experts to each topic who eventually gave presentations." The freshly acquired knowledge was put into practice shortly after at the Hungarian reception of the WAVES Vienna showcase festival and music industry conference. "This is good because WAVES is often seen as an entry point into the world of showcase festivals, at least in terms of the German-speaking market, for both professionals and artists. We taught the participants skills at the workshop that help them navigate this situation, which is new in many aspects, professionally and personally. This is important because in order for the time spent at the conference to be successful, it is essential to be prepared for it."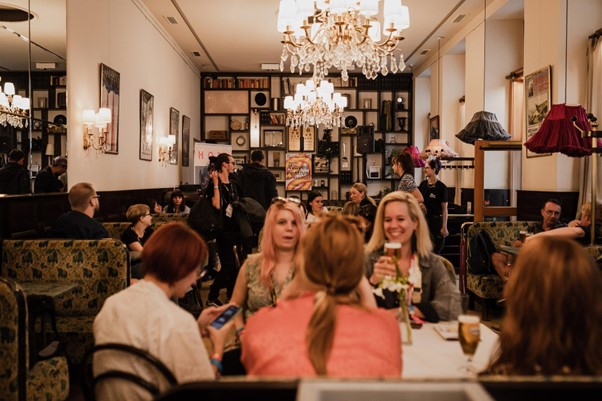 We asked two participants of the preparatory workshop, cultural manager Viktória Kellermann and musician Richárd Zalai (IALAZ band, Richard Zalai solo project), about what they learned during the workshop and their experiences at the Waves Vienna showcase.
Why was the workshop constructive for you, and what did you learn and gain from it?
Viktória Kellermann: It is always a pleasant experience for me to see how open music industry professionals are to meeting beginners and sharing their knowledge. I appreciate the friendly and relaxed atmosphere that characterizes these encounters. In general, I enjoy the way we communicate in this industry, even though it's an industry involving money and a lot of work. However, we generally believe in what we are trying to convey. We all treat these events as investments – organizers in new professionals, and we, in professional progress, which perhaps helps us avoid becoming too rigid. It has been two years since I graduated from "Majdnem Híres" (Almost Famous) and I haven't found a position in the music industry yet, so it's always good to have a "refresher." What was discussed is also useful in cultural networking – I received favorable feedback that I'm doing things well and good ideas on how to improve, including small details like leaving out attachments in introductory emails.
Richárd Zalai: It was very useful and constructive to participate in the conference. We had the opportunity to exchange ideas with many European and overseas professionals about how they experienced and are experiencing the post-pandemic crisis and the accompanying changes in the music industry.
How were you able to utilize what you learned during the preparatory workshop at Waves?
Viktória Kellermann: To my surprise, there were people who approached me based on my detailed profile which I filled out according to what I learned. There were meetings that I skipped because they didn't seem useful and there were others with whom I had a great conversation and I was able to provide useful advice, even though we initially seemed like an unlikely match. Everything we discussed about building personal connections helped us focus on mutually interesting topics during our conversations and enabled me to present myself confidently. For this, it is essential to have a well-thought-out and concise introduction instead of hesitations or unnecessary detours, which was emphasized during the workshop. Since I'm involved in so many things, it was important for me that the presenters reminded us to know why we are there and what we want to convey.
Richárd Zalai: There were courses that required prior registration. Among them, the one I liked the most was the one where Austrian musicians and influencers shared their experiences firsthand on how to communicate effectively on social media platforms nowadays. They discussed how to avoid perceiving it as mandatory content creation but rather enjoy the process of creating and sharing content. We learned about the specificities of each platform and where and what to share. Another very useful course focused on showcase festivals where a booker from Eurosonic provided advice firsthand. They covered topics such as how to apply, prepare, and make the most out of performances. They also discussed the potential aftermath of a presence at such events and how to build upon it in our future careers.
What benefits, results or consequences did your presence at the showcase festival have?
Viktória Kellermann: Meeting both domestic and international stakeholders is always beneficial and keeping up with trends is essential. On the other hand, I am particularly interested in the organizational side, so with every new festival, I learn more about how events operate, what best practices can be observed and what mistakes to avoid.
Richárd Zalai: I managed to establish new professional connections within the Central European region which I have a good chance of nurturing at the Nouvelle Prague event at the end of October. My specific goal is to introduce myself and expand in the countries of the region, and Waves Vienna has laid the groundwork for that.
What new opportunities does the workshop and participation at Waves open up for you?
Viktória Kellermann: The most important aspect for me is the presence. I am confident that when we meet again at a showcase festival, we will greet the people we met in Vienna and these conversations may continue in the long run. In this regard, it is particularly advantageous that we participate in multiple festivals within a year as continuity can be observed both on the professional side and in following individual bands. I have also met bands here that I have worked with at previous festivals in Hungary and I have been seeking opportunities to work with bands that I met at showcases.
Richárd Zalai: The HOTS professional training has given me the confidence to reach out and communicate with new people. I prepared my own elevator pitch. After browsing through the delegate database, I specifically reached out to other music professionals with the goal of meeting during the conference. I managed to arrange three meetings with colleagues from the Czech Republic, Austria and Bulgaria.
Author: Daniella Nagy | Photos: Waves Vienna
Categorised in: News
This post was written by hotsmusic